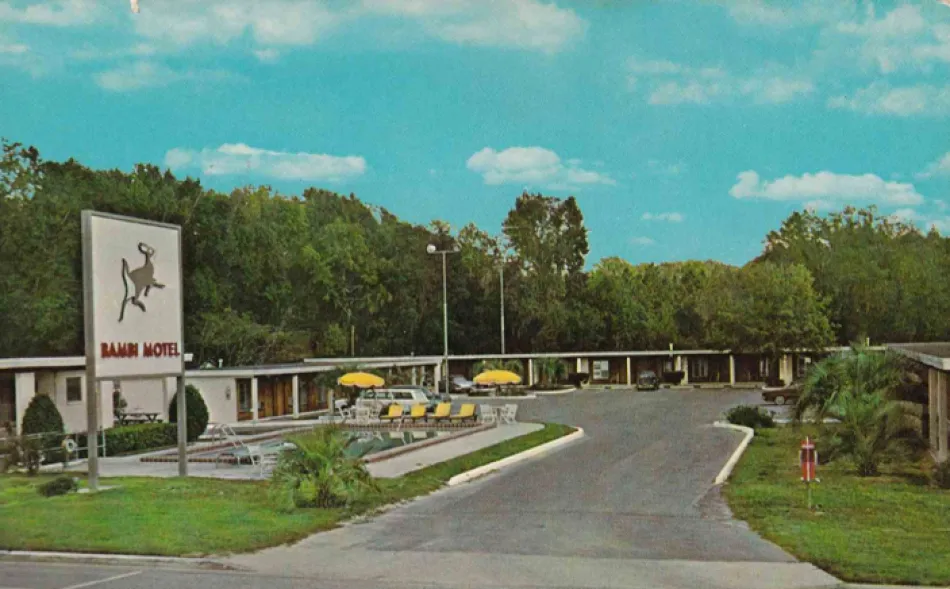 Our Story
Impact's story began in 1980 with the acquisition of a small 34 unit independent Bambi Motel in Gainesville, Florida. Guided by a strong set of values and a drive to succeed, the Kanji family embarked upon a long prosperous journey in the hospitality industry.
Impact's humble beginnings continued with a focus in the 1980s on independent and limited service hotels in growing rural markets across the state of Florida. Since then Impact Properties has built an extensive track record spanning over 40 years in Florida, specializing in development of hotels, restaurants and medical offices and the company has invested over $300 million in its property acquisitions and development activity. Many of these projects have earned national recognition for their achievements in design, construction, and day-to-day operations.
Over the past 7 years Impact has embarked on a program to diversify its portfolio by making strategic investments in other industries. Impact's diversification program has resulted in significant investments in the auto collision industry, homes services, retail holdings and residential development.
1978
Dilip Kanji emigrates to the United States from the United Kingdom with only a few dollars in his pocket and the spirit of the American Dream in his heart.
1980
First investment for the family was made into the Bambi Motel in Gainesville, FL. Small mom and pop motel near the University of Florida and Shands Hospital.
1981
As part of the growing family business, Pride Enterprises is created with the purposes of owning and operating hotel properties.
1985
First franchise deal for hotel development signed with Days Inn for the creation of a new build hotel in the growing I-75/Brandon corridor of Tampa, FL.
1988
Second franchise deal for hotel development signed with Best Western for the creation of a new hotel in the state capitol of Tallahassee, FL.
1988
Third franchise deal for hotel development signed with Choice Hotels for the creation of a new hotel in the vacation hub of St. Augustine Beach, FL.
1991
Creation of Impact's first management company to operate all of the hotel assets acquired and developed but also to grow via acquisition of hotel management contracts from other owners.
1992
Acquired the Days Inn Rocky Point Island out of bankruptcy during the S&L crisis. This six acre property would be turned around and later redeveloped into a mixed use destination featuring a Westin hotel, a Hampton hotel, a Holiday Inn Express hotel, a conference center, restaurant outlets, and residences.
1993
Redeveloped waterfront property in Punta Gorda, FL with a marina and restaurant.
1994
Launched Impact Marine, the families first international import/export shipping venture with partners in Singapore
1996
First partnership with Intercontinental Hotels Group (IHG) for the developed of a new Holiday Inn Express in Jacksonville, FL.
1997
First partnership with Hilton Hotels for the development of a new Hampton Inn on Rocky Point Island. We also developed the first hotel to be built in the historic Ybor City district of Tampa in over 100 years by delivering a new Hilton Garden Inn while partnering with the Historic Preservation Committee.
2000
Developed a new international restaurant and bar concept (one of the first gastropubs) with the first location opening in the historic Ybor City district of Tampa. Concept was recognized by Chain Store magazine for Retail Store of the Year and featured in the Nations Restaurant News magazine.
2002
First partnership with a national QSR sandwich chain Firehouse Subs to develop new locations in the growing Tampa Bay area.
2004
First partnership with Marriott Hotels for the development of the Marriott Springhill Suites in the growing Tampa-Brandon suburban corridor.
2005
First commercial real estate development with the delivery and sale of 94,000 square feet of professional office and medical space in the growing Tampa suburb of Wesley Chapel.
2006
Developed a mixed-use hotel with retail, restaurants, and residences in the Historic Gaslamp District by delivering a new high rise Marriott Residence Inn.
2009
Developed a trophy mixed use project by delivering the Westin Tampa Bay and Conference Center along the waterfront of Rocky Point Island in the Westshore Business District of Tampa.
2009
Partnered with Starbucks for a full service, licensed location on site at the Westin Tampa Bay property. We were also recognized by Associated Builders and Contractors Association for the National Award of Excellence for our development and construction of the Westin Tampa Bay project.
2012
Acquired boutique, beachfront hotel in St. Augustine Beach, FL.
2013
Partnered with emerging Fast Casual burger concept, BurgerFi, for the development of new locations in the Tampa Bay area.
2015
First retail partnership with national specialty retailer chain Rent a Center to acquire and grow a store network across the southeast region.
2016
First automotive partnership with national collision repair brand CARSTAR to acquire and develop branded collision centers in the Florida market.
2018
Became the largest franchisee of the 2,000+ store network of Rent a Center with growth to 75 store locations, capturing two Franchisee of the Year Awards along the way.
2021
First home services partnership with the largest national home services company Neighborly Brands with the acquisition of the Mr. Rooter and Mr. Electric locations in the Atlanta market.
2022
Launch of the Kanji Family Foundation to better serve our charitable mission of giving back to the communities we live and work in each day across the southeast region. This year was the beginning of a series of residential development projects with the acquisition of land parcels in Apollo Beach and Hernando County, two fast growing areas of the Tampa Bay region.